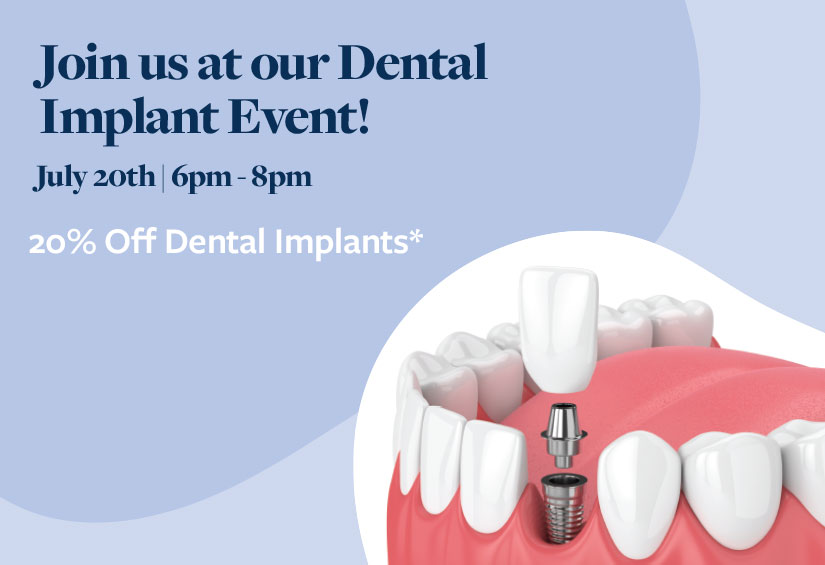 Space is limited. Call today to reserve your spot!
Must call (770) 502-6215 or complete the registration form to RSVP.  Snacks and light refreshments will be provided.
Join us for a free dental implant event hosted at our Imagix Dental of Roswell office and learn how dental implants can quickly improve your comfort, oral health, speech, ability to eat, and self-confidence.
Exclusive Offers for Event Attendees:
20% Off Full Dental Implant*
(Includes consultation, implant, abutment, and crown)
Replace missing teeth. Restore your self-confidence.
Thinking twice before you smile? We understand the private pain and embarrassment you may feel if you are missing one, several or all of your teeth. Our team can provide you with a beautiful, natural-looking smile allowing you to eat, play and embrace life with a smile. We offer a life-changing procedure that is cost-efficient and requires little to no downtime for patients who have missing teeth. We can give you the smile of your dreams.
What Are the Advantages of Implants Over Other Restorations?
By replacing your missing teeth with implants, you can enjoy all of these personal and dental benefits:
A natural-looking, permanent smile
More confidence
Better oral hygiene than with dentures
Greater ease in talking and eating
A more stable jaw
Protection for surrounding teeth
Meet the Presenter!

Dr. Peter Shatz is a world-renowned Periodontist who trains dentists nationally and internationally in the areas of periodontal care, dental implants and guided tissue regeneration. He enjoys getting to know his patients, treating them like family and building strong relationships.
The overall oral health of his patients is his top priority, communicating with his patients in a relatable way so they are comfortable with the treatment and know what to expect. Warm and welcoming, Dr. Shatz is sure to make any uneasy or nervous patient feel comfortable and confident with their smile.