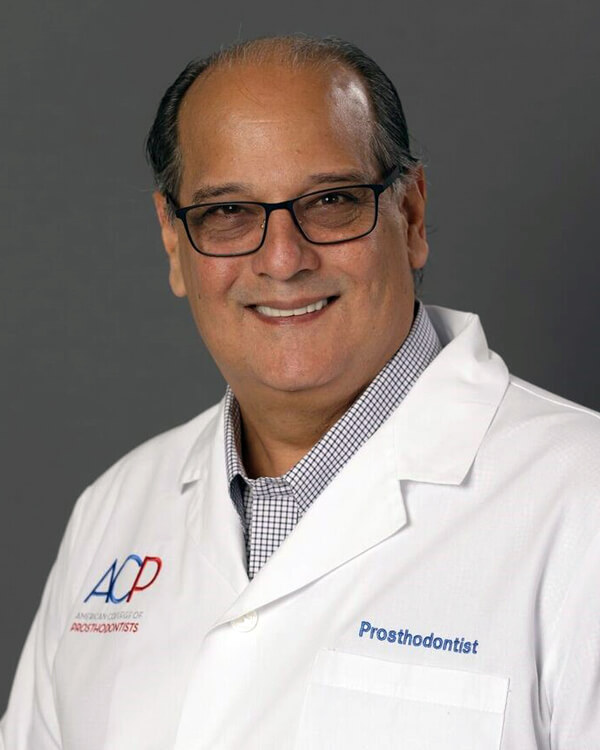 Dr. Norberto Delgado has been providing patients with advanced aesthetic dental care for over 30 years. He is highly skilled in restorative, cosmetic and implant dentistry as well as temporomandibular joint disorder (TMJ). He enjoys educating other dental professionals in the field of prosthodontics and has been a guest lecturer at the University of Puerto Rico's prosthodontics program. Dr. Delgado has spoken at various dental symposiums on topics ranging from advanced dental restoration to TMJ treatments. In 2015, he left his private practice in San Juan, Puerto Rico and moved to Atlanta, GA to be closer to his grandchildren.
Dr. Delgado received his Doctor of Dental Surgery degree from Georgetown University School of Dentistry in Washington, DC. He then completed his residency on TMJ management and restorative dentistry and research at Georgetown University, receiving the Dr. Edward Molson Memorial award for excellence in dentistry. Dr. Delgado continued honing his restorative skills while attending a two-year prosthodontic residency program at the Veterans Administration Hospital and the University of Missouri at Kansas City, completing his certificate in 1992.
When Dr. Delgado isn't treating patients, he enjoys cooking (lots of hot sauce!), landscaping, swimming, sailing, spending time with his wife and grandchildren, and catching up with his daughter on the phone.
Book Online Now
Complete the form below to book your appointment today.
Office Hours
Monday

8:00 AM – 5:00 PM

Tuesday

8:00 AM – 5:00 PM

Wednesday

8:00 AM – 5:00 PM

Thursday

8:00 AM – 5:00 PM

Friday

8:00 AM – 2:00 PM
CareCredit
CareCredit is a healthcare credit card designed for your health and wellness needs. Pay for the costs of many treatments and procedures through convenient monthly payments.
Our patients leave smiling


This dental/orthodontic office is fantastic! The orthodonist, Dr. Fleming, is very nice and always takes all the time needed at every appointment to make sure we understand exactly what is going on with my child's braces and what to expect. He has been working for a while with my younger daughter as well, preparing her for braces. The hygenists working with Dr. Fleming are all super nice and…

Angel G.



I always have the best time when I am at Imagix. The staff is just excellent in their professional duties. That's a given — if that weren't the case, I'd never be back. But this group is beyond that: they are friendly and kind. This visit I worked with Dr. Caesar (always gives me expert and friendly advice), Noz (the finest hygienist in Georgia!), and Keli. Congratulations…

Russ R.



Dr. Cesar is a thorough, professional. He will present the information to you with a direct and honest explanation and then he will take the time to make sure that it is done correctly. In my experience, he was not concerned with trying to see how many patients he could fit into a time slot, but rather my comfort and the end results. I appreciate his service and trust in his care.

Laura N.



Great experience with Dr. Cesar, very professional, provided helpful consultation and very good treatment, glad he is part of Imagix! Also wanted to thank Seema – the BEST dental hygienist I've ever known – very knowledgeable, gentle and professional. THANK YOU for being AMAZING!!

Linda H.



Kim has worked wonders with our insurance company and was always available for any questions. Great service! Very happy with our choice!!

Stephanie R.



Dr. Patel and Charlelisa were great. I was so nervous. They made me feel comfortable. They took their time with me and explained every detail to set the expectation of what was going to happen! They were WONDERFUL!!

KaSondra A.



Very professional and really friendly folks. I had a dental emergency and they got me in. Dr Patel is a great dentist and all of her staff, Charleesa, Angie, Ami and Evelyn are true professionals.

William H.



I went in for a chipped tooth repair with Dr. Patel and her assistant Charleesa and had a wonderful experience. The work was clearly carried out by expert hands and the finished product was impeccable. I couldn't believe they were able to do such a fantastic job in so short a time. Thanks again!

Ted D.



Absolutely LOVE this place; the staff is super nice and friendly. Nice, clean office, 100% recommend coming here 4 your teeth!

Sushi S.



Everyone there takes great care of my son, very accommodating as well!

V J.



Saw Dr Patel and Seema for the first time and experience was awesome. Offered sincere and honest recommendations and did not try to upsale anything that one often experiences at a dental office. Other supporting staff, Rose, Ami and Aubrie were very pleasant and helpful.

Jason S.



I have two children in braces. We've had such a great experience. The staff is knowledgeable and very friendly. And, they are always on time so I'm never left waiting and can get kids back to school and I can get back to work. Plus, they offer 7:00 a.m. appointments!!!

Andrea C.



Everyone is Very friendly

Abdul A.



Great service…very pleasant staff(Gina/Ashley/Ami)!

Corey M.



Great service and insight on making my teeth and gums healthier…Seema and Rose are a great team! I highly recommend Imagix!

Andre T.



Great experience, everyone there was really nice and helpful (especially Ami) :^)

Allie L.



Always very professional and courteous. I have been a client for several years and I do recommend.

Glenn C.



Staffs are very kind!

Eunji K.



Always a great time at Imagix (who says that about a dentist?) Friendly care, upfront on required/suggested services and pricing. Friendly bedside manner.

Ryan F.



Ashley Gross went so above and beyond for my whole family I cant say enough about this women. What started out as a big mess turned into a wonderful experience. She is a doll and your whole front office works so well together. All the best for a happy holiday Debra Dimino

SeAnna D.



My 12 year old daughter just had two teeth pulled to help with her braces and Dr. Cesar Tapia did an amazing job! Awesome Dentist!!!

Mary M.



They did a great job.

Ron S.



The staff are extremely helpful and accommodating. Dr. Patel is amazing and Charleesa is very knowledgeable and kind. The office manager explains everything to better help you understand and the Front Desk staff are very helpful and kind too. A overall great experience and I would highly recommend Imagix to all!

Patricia S.



I've been coming here for almost 10 years now from having braces, to getting cleanings, and recently getting all four of my wisdom teeth out. The staff here is so friendly including everyone at the front desk. I always come for cleaning with Seema and she always does a great job each time and gives me advice on how to do better. Also, when I got my wisdom teeth pulled Dr. Patel, Charleesa, a…

A U.



Just brought my 9 year old for first time filling. Dr. Patel did it efficiently. Her assistant, Charleesa, was professional and patient with my little one. And Ashley, the lady who checked us out was nice and friendly.

Alan X.



We are from out of state and they made us feel right at home. From the wonderful Ami and Evelyn at the front desk to Dr Tapia and his assistants and every person in between …a wonderful, caring team of people.

Philip A.



Great Friendly Staff :) in Both English and Spanish!

Marta A.



My children and I have gone here for several years and the experience is always positive. What makes the difference is the staff, but especially Ami who always goes above and beyond to help meet our needs!! Definitely recommend it!

Marvin R.



I have been going here for the past 5+ years and I absolutely love Seema (dental hygenist). She is very patient and gentle with my teeth.

Laura C.



This place is absolutely amazing! The staff is friendly and so sweet. My daughter had to get a tooth pulled by and didn't feel a thing!! Now she wants to be a dentist like Dr.Patel. And a special thank you to Dr.Patels assistant Charleesa she was awesome!

Asia L.



After experiencing discomfort and sensitivity on the gum area surrounding a crown for the last 15 years, I was referred by a friend to Dr. Peter Shatz. Within a short amount of time, he analyzed my situation and prescribed a treatment plan. He was patient, thoughtful and answered all of my concerns. His office staff is professional, kind and efficient in all areas. They were able to work me in qui…

Valerie V.



If you want a thorough, knowledgeable dentist this is the place to go! I was definitely a special case having 4 implants, one of which was 10 years old and we did not have records for. Dr. Cesar never gave up and did everything he could to solve the issue. His extensive knowledge of implants was very comforting and I could not be happier with the results! And to top it off, his hygienist – D…

Amanda S.



I loved that my Granddaughter loved it The staff was very attentive

Andrea D.



It is always a great experience whenever I have an appointment here! Naz always does an amazing job. She is very caring and thorough. She makes sure I am comfortable during my appointment and explains everything so well. She is probably one of the best hygienists I've ever seen!

Abbey S.



Great experience all around. Dr. Butler and Tina took excellent care of my problem. The great care provided by both from beginning to end making it one of the best dental experiences I've ever had. Tina makes you feel less of a patient and more like a friend, Dr. Butler was gentle and let me know everything that was happening as she worked, completely painless. I could not have had a better…

Tammy R.



After searching for an Ortho near my home. I was so pleased to be referred to Imagnix in Alpharetta. Dr Fleming is an incredible orthodontist. Their service and attention to detail is second to none. Aubrie and Kelly take care of me every time I'm at the office. The office staff of Amy, Natalie, Tanika, Evelyn seriously provide such an awesome customer experience. Thanks Guys. You Rock.

Mowbray R.



Naz is kind, thorough, and great ….Dr Patel is excellent, too.

Erica G.



Naz is the greatest!!!! Front desk ladies are amazing. Highly recommend!!!!

Ddlow007



Naz was very gentle and explained everything so well. She shared many tips to help with my dental care and happy to have her at Imagix!

Angela H.



Just had a very painless filling of my ancient baby tooth with Hanna and Dr. Patel. Nitrous is available and provided.

Erica M.



Dr Yesha Patel, her assistant Angie are excellent & the staff in the front office are very polite, professional & ever ready to assist you- they are never too busy to help you.

Indra S.



Friendly and nice people ! Feels as home ! Excellent Doctors

Nelson C.



The two lovely team, Dr. Patel and dear Hanna, were an amazing team together. Not that I'm hoping to come back, but if I'll need to – it will be directly back in their hands.

Idan Y.



My son is getting braces. This is my second child that I've brought to see Dr. Will. He's the BEST and the staff is amazing too! Highly recommend this office. You won't be disappointed. Thanks guys!!

Wendy R.



Great Experience!! Naz did awesome job – she listened to my concerns, was gentle and thorough. She gave me some good ideas to help with my issues. I never once felt like my appointment was being rushed. Really just an all around great experience!! everyone is cheerful and very professional. I feel very comfortable and satisfied with the dental care I receive and would recommend this practice…

Sumit M.



Naz and Keli are great!

Robin R.



Dr Cesar & Seema are the very best team dental team!! Seema is super sweet, very thorough and kind in her cleaning while Dr Cesar is very knowledgeable, the utmost in professionalism and fixed my crown that had been giving me aches and pains for a long time. Do not be afraid, this team will take care of you and they follow-up to make sure all is well!! LOVE this team and practice!!! 5 STARS a…

Sylvia B.



Dr. Fleming and staff are fantastic!! They have helped me perfect my teeth over the years!! Wouldn't trust anyone else.

Paige S.



Great team of friendly specialists!! They go above and beyond to ensure you are happy and your teeth are healthy!!

Maddison S.



Professional, Friendly and on time! The entire staff goes out of their way to make you feel at ease and always addresses any issues that I have. I've been with them for over 10 years and continue with them well into the future.

Eric B.



We have had all three kids get braces here with great expereince. Kim in the office is also great to work with!

Barry D.



I'm so happy and thankful for today's visit with Dr Cesar Tapia and his assistant Angie!!!!

Maddie P.



Just got my new smile from Dr.Cesar and Angie. I'm so excited!! Can't wait until the numbness wears off so I can finally smile for the first time in 20 years! Thanks guys! You did a great job. Dr.Cesar made me feel comfortable through the entire process. I'm so glad I decided to get the work done.

Cameron M.



Professional service! Just visited again today, their attention to patients is excellent!

Van C.



Excellent customer service. They took great care of my son

Katy A.



Me and my daughter's have been going to this facility for couple of years now to get our braces and we are very very happy with the service provided by Dr Flemming and his staff. I highly recommend their service to everyone in our community.

Yashi S.



They are wonderful here, always so nice as soon as you come in. had a great experience with Naz, so grateful i had her: she was amazingly nice and very thorough with everything. Keli was also amazing. i've never had a bad experience here.

Holly F.



Long time customer of Imagix Dental, 3 kids have grown up in their office from toddler visits, through braces and now young adult general dentistry. Great staff, very accommodating and friendly. Seema is our family Hygienist and the very BEST. She takes great care of all 5 of us!

Anne F.



This is the best dentist office ever !!! The ladies in ortho are angels and take very good care of their patients .

Kell I.



Naz was awesome, she took pride in her work and made sure I was completely satisfied with the end result.

Sonny R.



Very professional and knowledgeable staff. Roz is very personable.

Jim B.



Naz treated me like she was my loving, care little sister! I look forward to seeing her time I go there because I know my best interest is her concern!

Leon L.



Naz is a great professional, I came last week and for some reason the from office was not able to process my new insurance so I had to reschedule my appointment. Naz took it upon her and got me an appointment on her lunch break, she went above and beyond, she's awesome at what she does and beyond.

Roshni P.



They are awesome!! As as adult going back into braces I was apprehensive about the process. Upon meeting with Dr Fleming and his team my concerns were eliminated and I have had an excellent experience and results because of their professionalism. Along the way various issues with my situation came up and Dr. Fleming and his assistant Kay have always been available to quickly solve the problem and…

Evan P.



I went in for a routine cleaning last week. The front staff was friendly and I didn't have wait anymore than 5 minutes before starting my appointment. My hygienist was Naz. She was really nice, personable, and professional. She made sure I was comfortable during the cleaning. Also gave me some good tips on the flossing and Teeth grinding. I'd highly recommend her!

Jason T.



The staff here are amazing and some of them love Star Wars. (Not joking)

Yasinsong



The best dentist I've ever been to

Zahra M.



Love the staff. It really does make a difference!!

Mike G.



This place has amazing service, I definitely recommended coming here if you live in the Johns Creek/Alpharetta, and even if you don't live near there I would still check it out.

Tyler K.



My hygienist Naz and Dr. Ceasar were fantastic. Thourough but gentle and explained everything they were doing. Leslie and the front office staff were super helpful and the check-in and check-out processes were a breeze.

Nicole F.



I like having my teeth cleaned here.

Sylvia T.



I love this office. The staff are aleays friendly and treat my family and I wonderfully!

Ruth T.



Awesome experience with everyone there… they take amazing care of my wife and I.

Ryan B.



Great experience as always. Very detailed and staff always takes their time with every patient!

Neha B.



Great experience with this dentist. They provide a good plan and strong guidance for improving the health of your gums and teeth.

Jermaine B.



I have been coming to Imagix Alpharetta for over 5 years. Seema and Aubrie are the best team! If you live in the Johns Creek/Alpharetta area. I recommend Imagix for your family's dental care needs!

Erica W.



A Very friendly office and Seema is the best dental hygienist! I love coming to see her and her assistant. They both do an excellent job and make me feel comfortable while getting my teeth cleaned. If you're looking for a new dental hygienist ask for Seema. You won't be disappointed.

S A.



Love this office! It's a one stop shop for my dental needs. The staff is great. My dentist and hygienist always exceed my expectations.

Alison H.



Has been my home for years! Would not take my family anywhere else. All the staff (Dental and ortho) are professional, caring and always make it a wonderful experience! Have had 2 boys go though braces and even gum surgery for myself a few years ago. Gina is the BEST for my perio and I wouldn't trust anyone else

N K.



Best dentist around. My kids actually look forward to going.

Valerie D.



Very friendly, easy-going staff. Knowledgeable and good work. They also have orthodontics and pediatric dentistry in the same building. Definitely recommend

Christine C.



We have been visiting Imagix for more than 10 years. The staff is always cheerful and they do a good job.

Sundarakrishna