Posted under:
General
Posted on: November 17, 2020
Invisalign: Frequently Asked Questions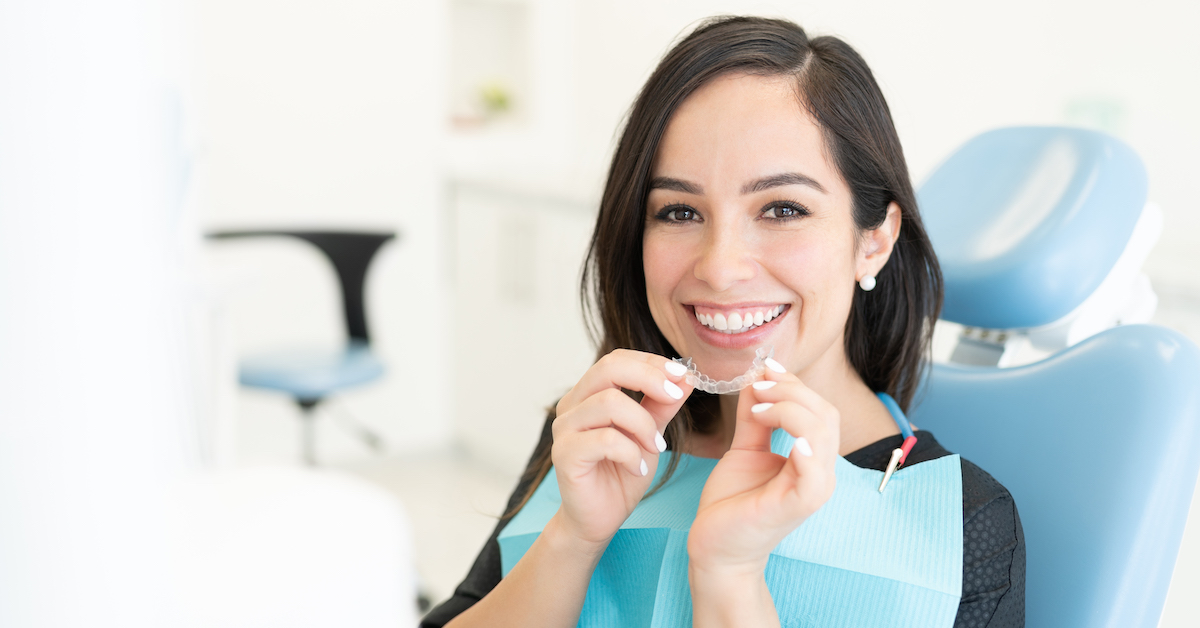 No matter how impressive your outfit, it will be more impressive when it's accompanied by an impressive smile. If you want your smile to be the best it can be, then the Invisalign system of aligner trays may be the answer for you. You'll achieve the straight, even teeth that you´ve been dreaming of, and no one will know that you're wearing braces.
How Do the Invisalign Trays Work?
The Invisalign aligner trays are constructed of SmartTrack® plastic that's an innovative, space-age polymer that's FDA-approved, it has no BPA or BPS, and it's gluten-free and latex-free. If you're a teen or adult who has a bite issue, crowded teeth, or unevenly gapped teeth, then the Invisalign aligner trays may be the answer you seek. If you have complex orthodontic issues, you may need a different type of treatment, but your Invisalign dentist will advise you if that is the case. If you're not interested in metal braces but would love to have straight, even teeth, then the Invisalign aligner trays can help you achieve your goals with no one the wiser.
Who Is a Good Candidate for Invisalign's aligner trays?
Most people are good candidates for the Invisalign system, but there are exceptions. The following individuals may not be ideal candidates for Invisalign.
Those who are very young may need an alternative because their permanent teeth haven't fully erupted.
Individuals that lack the skillset necessary to remove, clean, and replace their aligner trays every day.
Patients who smoke unless they're willing to quit.
Won't wear the trays for a minimum of 20 hours each day.
Patients that are indifferent to the invisibility aspect of Invisalign and don't have the need to remove the trays.
Your dentist will ultimately decide whether the Invisalign trays are the best type of braces for you. During your initial consultation, we'll discuss your objectives and your needs as well as the time you have, and determine the best course of action for you.
Who Determines If Invisalign Will Work for My Particular Alignment Issues?
Your Invisalign dentist has been specially trained by Invisalign, so they'll be the best for determining if the trays will work for you. However, your treatment regimen will be tailored to your unique needs, and we'll let you know what to expect throughout the procedure.
What's the Procedure for Getting Invisalign?
If you and your Invisalign dentist have determined to proceed with the aligner trays, then we'll formulate a treatment plan that's tailored to your needs. After your consultation and exam, then we'll make a mold of your teeth and use that to fabricate your aligner trays.
You'll receive replacement sets of trays every one to two weeks, and you'll return to the office every four to six weeks because we need to monitor your progress to determine if we need to make any adjustments. Patients can usually notice a difference in their tooth alignment by the date of their first checkup. Treatment regimens usually take between 12 to 18 months, depending on the degree of alignment needed and your dedication to wearing the trays.
Do I Need to Change My Daily Routine When I Wear the Aligner Trays?
Overall, your routine shouldn't need to be changed, but there may be some habits that you need to adjust. You'll need to:
quit smoking, or at least for the duration of the treatment;
avoid chewing gum when your trays are in;
remove the trays before eating or drinking; and
be sure to brush and floss after you eat and drink and before replacing your trays.
Without proper cleaning, food particles can cause decay and gingivitis to set in, which will damage your trays and extend the time required for your treatment. Your trays won't affect your speech. They fit very snugly, so they won't move around or fall out. It may take a day or two to become accustomed to the feel of the trays on your teeth, but you shouldn't experience pain. At most, you'll feel a slight pressure, which is necessary so that the trays can realign your teeth. Any discomfort involved is considerably less than the chafing and cutting of traditional metal wire-and-bracket braces.
Can Anyone Tell That I'm Wearing Invisalign Trays?
If you're standing in close physical proximity to another person, they may be able to discern that you're wearing aligner trays. People tend to see what they expect to see, though, so they may not notice them. Anyone who is farther away will probably not notice your aligner trays. Allegedly, the team who invented Invisalign wore them during their sales presentations and then removed them afterward. The attendees were quite impressed and were eager to invest in the company because they were unaware that the presenters were wearing their product.
You can remove the trays for special events or if you need to play an instrument, but you need to wear them at least 20 hours each day. The trays can't work if you don't wear them for the indicated duration.
Do I Need to Follow Special Procedures After My Invisalign Treatment Is Over?
After you've completed your treatment regimen, your dentist may recommend that you wear a retainer at night, but it will only be for a specified time, usually for a year or less, not in perpetuity. If your dentist recommends that you wear a retainer, it's important to wear it. Otherwise, your teeth may revert to their previous positions, and you'll have reversed the progress you made with the aligner trays.
Where Can I Find a Local Invisalign Dentist?
All dental professionals who offer the Invisalign system must be specially trained and educated by Invisalign. If your dentist hasn't been trained by Invisalign, then they can't offer genuine Invisalign aligner trays. If you're interested in the Invisalign system, then call Imagix Dental at to schedule an appointment. Our dentists have been trained by Invisalign, and we're proud to be able to offer this uniquely effective type of braces to our patients. Give us a call to schedule an appointment. We look forward to working with you.