Posted under:
General
Posted on: August 7, 2020
Are Dental Implants Right for You?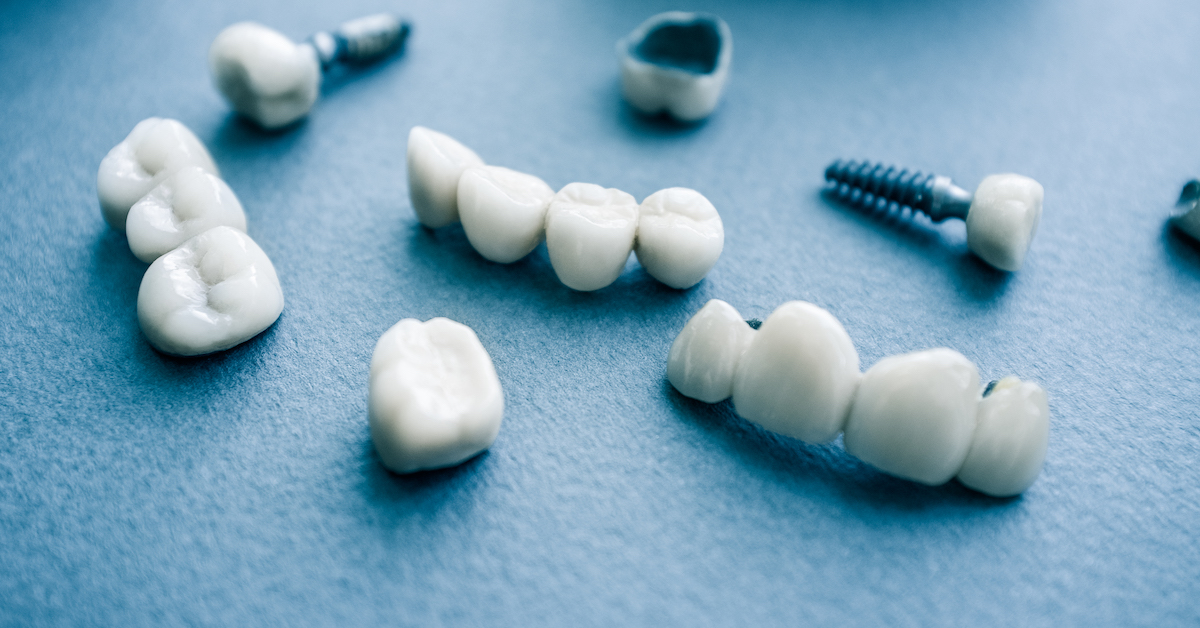 What Is a Dental Implant?
A dental implant is basically an artificial tooth root. The implant is surgically attached to the jawbone and provides a sturdy, permanent base for an implant-supported bridge or artificial tooth. Dental implants can be used to replace multiple missing teeth, a single tooth, or even a complete upper and lower set of teeth. Compared to dentures, dental implants are completely secure and comfortable to wear. After attaching a bridge or crown to the implant, it functions, feels, and looks exactly like natural teeth.
Endosteal implants and subperiosteal implants are the two main types of implants. Subperiosteal implants are placed above the jawbone, just under the gums, while endosteal implants are inserted directly into the jawbone.
Let's take a closer look at the three parts of a dental implant:
The post, or body, looks similar to a screw and is typically made of titanium. It's very durable and is surgically attached to the jawbone. After fusing to the jawbone, the post serves as a strong base for a crown or other dental restoration.
The abutment is attached to the post and acts as a connector. It sits right above the gumline and supports a new tooth or set of teeth.
The crown is the visible part of the tooth and is attached to the abutment. It will be custom-made to mimic the appearance of your natural teeth.
What Are the Steps Involved in a Dental Implant Procedure?
You'll be sedated during dental implant surgery, and it's an outpatient procedure that has multiple steps to allow for the healing of the jawbone and gum tissues.
Here's what happens during dental implant surgery:
During the initial consultation, X-rays of your mouth are taken, and your dentist examines the health of your teeth and surrounding tissues. Your treatment plan is developed, and you'll have an opportunity to ask questions. Before the next phase can begin, any damaged or infected teeth are removed.
A bone graft is performed if there is insufficient bone available to support the implant. This can take several months to heal and delays the placement of dental implants.
While placing the implant, your oral surgeon makes an incision in the gum tissue and drills holes into the jawbone to hold the body of the dental implant. Stitches are used to close the incision, and you're sent home to begin the healing process. During this time, the process of osseointegration occurs, which is when the titanium post and the jawbone fuse together. This process can take many months.
After osseointegration occurs, the abutment is attached to the implant. Once your gums are fully healed, impressions from your teeth and mouth are made to create a realistic-looking dental crown. Once made, the crown is secured to the abutment.
Is a Bone Graft Necessary?
The best candidates for dental implants have healthy gum tissue and strong jawbones. If you've lost bone as a result of missing teeth and don't have enough bone in your jaw to support dental implants, you might still be a candidate with the help of a procedure called bone grafting. This procedure can increase bone density in the jaw, providing a stable base for the implant.
Several types of material can be used during a bone graft, including donor tissue, bone that is taken from another part of the body, or a synthetic material can be used to encourage new bone growth. Depending on the material used, it might take several months for the graft to create strong bone. However, if only minor grafting is required, your oral surgeon may be able to perform the bone graft as part of the surgery for placing dental implants.
What Should I Expect After Dental Implant Surgery?
It's normal to experience some discomfort after receiving dental implants. You can also expect minor swelling of the face and gums, pain at the site of the implant, slight bleeding, and bruising of the gums or skin. If any of these symptoms worsen days after surgery, please call our office right away.
Your oral surgeon or dentist will also advise you about pain management and reducing swelling. You may need to eat soft foods post-surgery, so your oral surgeon will let you know which soft foods you can eat during the recovery period.
What Are the Advantages of Dental Implants?
Take a look at some of the many advantages dental implants have to offer:
Enhanced durability
Improved speech
High success rate
Natural appearance
Easier eating
Easy to care for with daily brushing and flossing
Comfort
Improved oral health
Convenience
Ability to preserve bone and prevent future bone loss
Are There Any Disadvantages of Dental Implants?
Although dental implant surgery is considered safe, there are risks associated with any type of surgery, such as infections and side effects related to anesthesia. Dental implants also have these disadvantages:
High cost
Procedure may not be covered by insurance
Crowns may need to be replaced in the future
Lengthy procedure with many steps involved
If missing teeth are causing you to feel embarrassed, it might be time to consider dental implants as a treatment to restore your beautiful, natural smile. At our dental office, we care deeply about the oral health of our patients. Give us a call today to learn how dental implants can restore the beauty of your smile.