A Parent's Primer on Proper Dental Care for Kids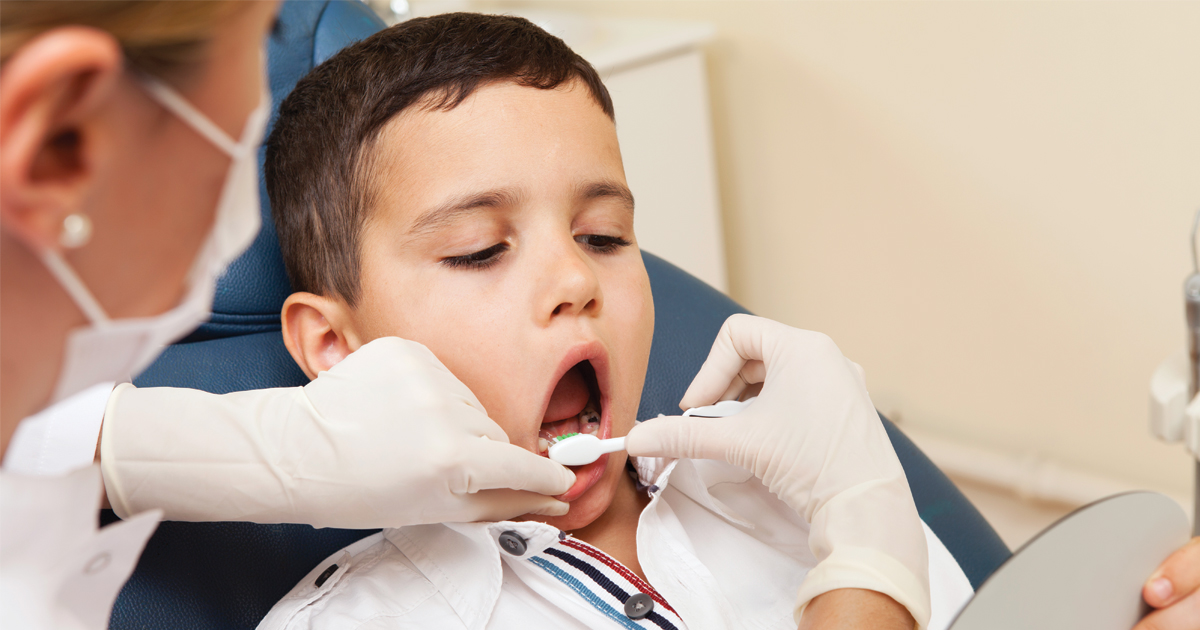 You want your child to have a healthy smile they feel confident about, so you need to start healthy habits at a very early age. Pediatric dentists recommend that you learn how to start a good dental care routine that will keep your child healthy and happy with their smile.
Tips on Tooth Eruption
For most children, their first tooth emerges between 6 and 9 months of age, with the rest coming in by age 3. You need to regularly check your child's mouth for signs of new teeth. If your child's first tooth has not erupted within 9 months, you need to make an appointment with their pediatrician. Regardless of their number of teeth, dental experts recommend taking children to pediatric dentists no later than their first birthday to check on their dental development. Then, continue taking your child to visit a kid's dentist for cleanings and check-ups twice a year.
Helpful Hints for Better Brushing
Between birth and their first birthday, it's important to gently clean your baby's gums with a soft washcloth or gauze pad after breakfast, following feedings, and before bedtime. As soon as their first teeth come in, start brushing them with a baby toothbrush and cool water. Then between the ages 1 and 2, pediatric dentists advise advancing to a child-sized toothbrush and a pea-sized amount of toothpaste. Ask your kid's dentist to show you and your child the best way to brush and then supervise them every time. In general, experts suggest following these brushing basics to ensure healthy dental care for kids:
Point the toothbrush at a 45-degree angle to their gums.
Gently brush with a back-and-forth motion.
Make sure that the brush cleans every surface of each tooth.
Tilt the toothbrush vertically and use an up-and-down motion to clean the inner surfaces of their front teeth.
Finish by brushing their tongue to remove any excess debris and bacteria.
Facts on Flossing
Most parents know that brushing is a must, but flossing is also an important part of good dental hygiene for kids. You should start flossing your child's teeth as soon as two of their teeth touch, which generally occurs when they're 2 years old. Since most children don't have the manual dexterity to floss their own teeth until they're around 9 years old, you need to floss your child's teeth at least once a day to remove any trapped food particles that can cause decay. Use these simple steps to floss your child's teeth:
Cut approximately 18 inches of floss.
Twist one end of the floss around one middle finger and the remainder around the other middle finger.
Tightly grip the floss between your forefingers and thumbs.
Gently press the floss against the side of the tooth, using an up-and-down motion to clean it.
Then, curve the floss into a C shape to clean beneath the gum line.
Repeat on both sides of every tooth.
To help your child learn to floss, consider getting them a floss holder to make flossing much easier. You can ask your kid's dentist to help your child with proper flossing techniques.
Follow these dental care directions to give your child a head start on a healthy smile for life.
To learn about our family dentistry practice in Atlanta, call today or make an appointment.
and its affiliated practices offer affordable family dentistry and gentle, compassionate dental care in Atlanta. Our offices are conveniently located with extended hours to meet your needs. Our practices provide most dental services, from basic preventative care and general dentistry to specialized procedures and complete dental reconstruction. We accept most dental insurance plans and offer affordable financial solutions for any budget. Patient satisfaction is our top priority and we strive to provide the exceptional, affordable dental care and personal touch that lead to lasting relationships. A smiling patient is our greatest reward and we look forward to keeping those smiles healthy, beautiful, and bright. Discover affordable dentists who truly care.